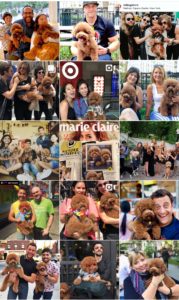 Please comment below if you plan on coming out to see us or contact us with special requests
Agador and Fred travel the world and love to meet up with fans along the way.  If you are in or near any of these locations we would love to meet you, chat and maybe even sit down to brunch.  Here are some of our upcoming events:
August 12, 2018  Palo Alto, CA
Sunday Brunch at the Four Seasons Hotel Silicon Valley at East Palo Alto, 2050 University Ave, East Palo Alto CA  94303
Brunch Reservations Required:  Click here for RESERVATIONS    Please request outdoor seating if you are bringing your  dog. Brunch ($45+ per person)
August 17, 2018   Downtown Seattle, WA
Lake Union Park
5:30PM Museum of History & Industry (MOHAI) near the fountain outside.
August 19, 2018  Downtown Portland, OR
Sunday morning 11AM – 12 meetup at Hotel Rose 50 SW MORRISON STREET , PORTLAND, OR 97204-3390
August 24, 2018  New York City, Madison Square Park
Time to be announced (late afternoon)
Please comment below if you plan on coming out to see us or contact us with special requests